Half-day & School Age
Age 2 1/2-4, 6-12
Our Half-Day program
runs daily (9:00-1:00 with lunch) from September-June. It is designed for children 2 1/2-4 years of age with a focus on socialization and kindergarten readiness. You may choose 2, 3, 4 or 5 day programs
.
We offer
:
8-1 ratio
Teachers are trained in Handwriting without Tears, and Jolly Phonics
"Nature Ranger" program
Summer Camps with weekly field trips
Currently we offer buses from Ecole Fairview and Notre Dame
School Age – Ratio 1 teacher to 10 students
For the last 12 years we have been rearing Monarch butterflies in our classroom. At first we did it to show our friends the lifecycle (egg, larva, pupa, butterfly). The process is totally amazing! After some research we discovered that Monarch numbers are dipleting because their life cycle totally depends on milkweed. Urban sprawl and chemical spraying are making it hard for female Monarchs to find health milkweed to lay their eggs. Because of this we established our own milkweed/butterfly garden and dubbed it the "Milkweed Motel". We are registered
with Monarch Watch
and have began tagging our Autumn hatchings that will be migrating to Mexico.
Check
out our blog ~ http://www.pupasinparadise.blogspot.ca/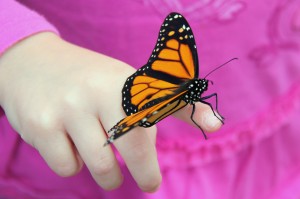 June Newsletter
Now that the nice weather is here all of our little fashionistas love to wear flip flops. Unfortunately due to an increase in outdoor accidents our policy is that all sandals must have a strap around the back. If you haven't yet brought in sunscreen, please do so because we are out when the sun is at it's peak.
The ladies and I would like to express to everyone what a wonderful time that we have had getting to know all of you and your children. It has been a pleasure watching them grow ~ not only in height but in character. To celebrate we will be having two good-bye class trips (so that no one misses out) towards the end of the month.
On Wednesday, June 20th we will be taking a chartered bus to Brantwood Farms to pick strawberries, interact with some farm animals and take a tractor drawn hayride around the property.
On Thursday, June 28th we will be spending a fun fulled morning interacting with the exotic animals at Twin Valley Petting Zoo.
For both of these trips we will be leaving at 9:15 and returning at 11:30.
We are now accepting registrations for our September 2018 program. If you know anyone that may be interested please let us know.
To help offset the costs of trips, buses and visitors during our school-age summer camp we will be running a 649 Elimination Draw. Lines can be purchased for $5.00 from now until July. We will contact the winner once all 6 of their numbers have been drawn. Last year one of our Half-day friends was the lucky winner of over $200.00. Good luck everyone!
Your feedback is very important to us. Attached you will find a copy of our Parent Survey. Please take a few moments to fill it out so we know what we are doing well and where we could improve to better meet your needs.
P.S. Mrs. Orgar will be deleting all of our photo albums at the end of July.
Your Junior Room Team.
Shari Cowan, Kim Orgar & Heather Tiller
————————————————————————————————–
I ________________________ give permission for my
child __________________________ to travel by chartered bus to
Brantwood Farms on Wednesday, June 20th.
[ ] $7.00 included       Parent Signature: ___________________________
————————————————————————————————————————————————————————————————
I ________________________ give permission for my
child __________________________  to travel by chartered bus to
Twin Valley on Thursday June 28th.
[ ] $7.75 included       Parent Signature: ___________________________
School-age Newsletter
A couple important dates and notices to remember.
Scholastic Orders are due June 4th
* Our June 8th P.A. Day theme is NASCAR Day. Please bring in a dinky car to race.
* We will not be offering any care on Friday June 29th
Your Before/After School Team
Shari Cowan, Heather Tiller, Kim Orgar & Tassia Nantais